2024 Nissan GT-R at Bob Moore Nissan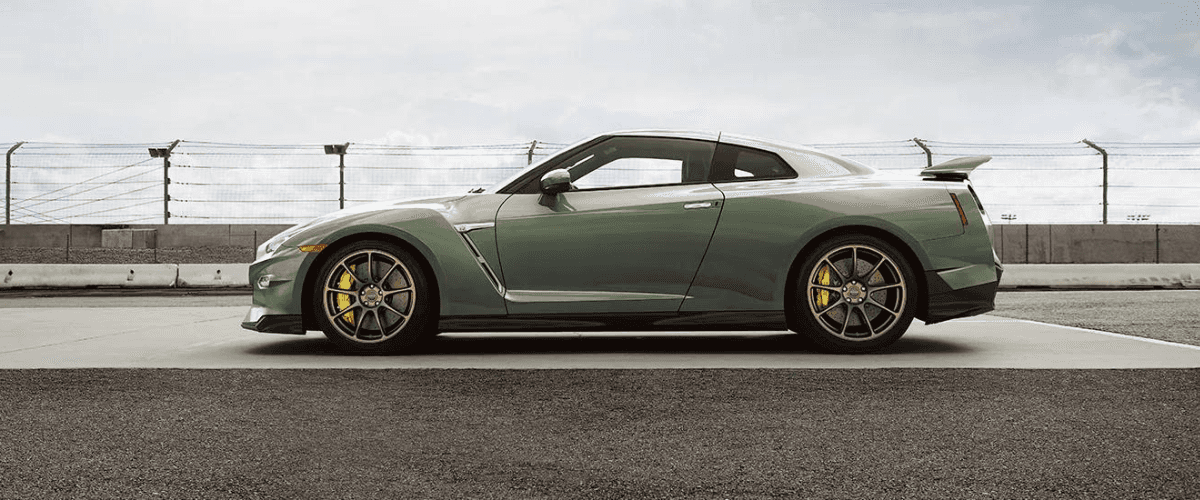 Explore the Iconic 2024 Nissan GT-R
Since its debut at US Nissan dealers in 2008, the Nissan GT-R is the only supercar that has continued defying design and performance limits. Known best for its blistering speed and incredible handling, Nissan shows attention to detail on every inch throughout the 2024 GT-R, from its aerodynamic frame to the most advanced all-wheel-drive system ever built. Contact our Bob Moore Nissan of Norman team if you're interested in buying the 2024 Nissan GT-R.
Unrivaled Power
The 2024 Nissan GT-R will be available in three trim options, Premium, T-Spec, and the highest level, the NISMO. Premium and T-Spec trims will be powered by a  3.8-liter DOHC 24-valve twin-turbocharged V6 that produces an incredible 565 hp and 467 lb-ft of torque. Meanwhile, the NISMO GT-R receives a tuned-up version that delivers a blistering 600 hp, 481 lb-ft of torque, and a top speed of 200 mph. All models will have top-of-the-line ATTESA E-TS All-Wheel Drive systems to complement their power and three unique driving modes, R-mode, Special Mode, and Normal, giving drivers ultimate control on every journey.
2024 Nissan GT-R Design & Technology
Since its conception, Nissan has taken pride in the attention to detail that goes into every Nissan GT-R model. The GTR's Premium Midship platform places the engine farther back in the chassis, which mounts the transmission with the transfer case in the rear of the GT-R, creating enhanced handling and an independent rear transaxle in an All-Wheel Drive vehicle. Most vehicles' underbody leaves exposed components and room for loss in aerodynamics. The GT-R's underbody is virtually covered by composite panels, giving it a flat, aerodynamic surface. At the front of the car, the flat underbody accelerates the air and channels it over the brakes, cooling them down. At the car's rear, a carbon-fiber diffuser takes that accelerated air and slows it down, creating a vacuum effect that helps GT-R connect to the road, while a duct in the diffuser helps cool the titanium exhaust. Altogether, this legendary design produces a driving experience unmatched by any car on the road today.
2024 Nissan GT-R NISMO
The Nissan GT-R NISMO is at the pinnacle of supercar performance today for its unmatched power, performance, and capability. The NISMO GT-R is ready for the track with its Brembo Carbon Ceramic Braking System and a new mechanical front limited-slip differential that helps distribute the NISMO's incredible 600 hp. The NISMO edition also receives a carbon fiber hood, bumpers, roof, trunk lid, and fender to enhance the vehicle's aerodynamics and weight distribution. 
For more information on the new 2024 Nissan GT-R, contact our team at Bob Moore Nissan of Norman, located just south of Oklahoma City and Moore, OK.