2023 Nissan LEAF Near Oklahoma City, OK

2023 Nissan LEAF at Bob Moore Nissan
The 2023 Nissan Rogue is an unstoppable five-passenger crossover with style, power, and an impressive interior full of the latest technologies. You can discover all that the new Nissan Rogue has to offer near Moore and Tulsa at Bob Moore Nissan of Norman. We're excited to show you its features and amenities, so come and see us in Norman, OK.
Top Features of The 2023 Nissan LEAF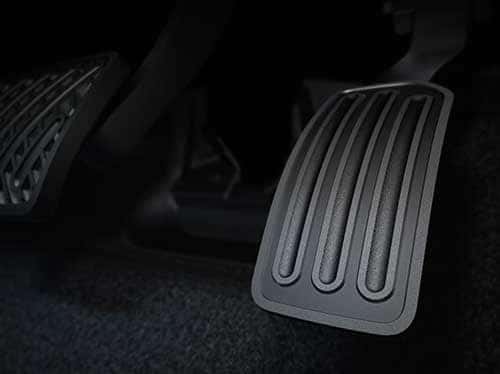 E-Pedal
The Nissan LEAF's E-Pedal offers a fun alternative to your everyday driving experience. This feature uses only one pedal to control speed and brake, with the gradual stops increasing how far you can drive per charge.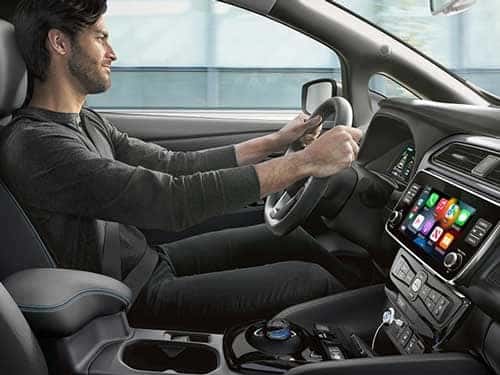 ProPilot Assist
The optional ProPilot Assist can help you stay safe by keeping you centered on the road. By combining Intelligent Cruise Assist and Steering Assist, this system is able to offer you cruise control with the capabilities to maintain a set space, pause, and even come to a full stop to match the flow of traffic.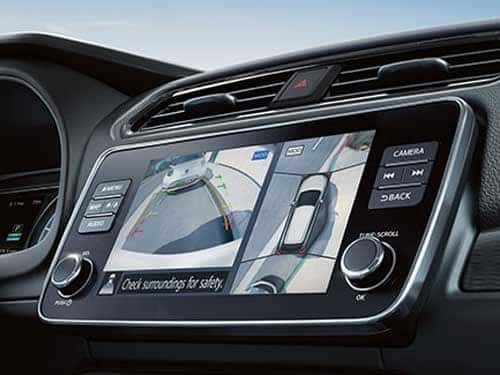 Intelligent Around View
The Nissan LEAF's Intelligent Around View offers a 360-degree view of your hatchback from inside the car. The cameras can be viewed through the NissanConnect 8-inch infotainment screen and will provide on-screen alerts when movement is detected on the feed. The screen can even be split between multiple angles to help you get a better view.
Long-Lasting Performance
The best draw of this all-electric hatchback is the range, with a single charge lasting an impressively long amount of time. The 40wKh option achieves an EPA range of 149 miles and the 60kWh option offers an incredible EPA of 212 miles, so there's a selection for any type of lifestyle. The handling of this vehicle is also notable, with the battery's low chassis placement creating a center of gravity that clings to the road. This hatchback moves fast with almost instantaneous acceleration through the electric drive train and an aerodynamic exterior that reduces drag.
Safety You Can Trust
The Nissan LEAF offers Standard Safety Shield, a set of 6 different safety features that work together to create a reliable vehicle. Automatic Emergency Braking with Pedestrian Detection will bring your vehicle to a stop in the event of an imminent collision, and the LEAF has sensors for both forward and rear movement. Alert systems are also installed to notify you of situations like lane departure or objects in your blind spots. Intelligent Driver Alertness is another notification system equipped on the hatchback, which will monitor your steering habits and check in to see if you're drowsy when unusual handling is detected. High beam lights can be used without worry with High Beam Assist, which automatically dims your high beams when a car is detected ahead of you.
Why Electric
There are plenty of reasons to make the switch to electric now that the tech has caught up to the performance of gas engines. Besides the obvious benefits, like being good for the environment, electric cars bring all the latest features with them. With the LEAF's NissanConnect EV, you'll be able to see the charging status from your phone and control certain functions, like the cabin temperature, from wherever you are. Charging options are diverse for this model as well, with choices like Nissan Public Charging Stations or even the ability to charge from your home.
If you're ready to make the switch to electric, you can apply for financing today with Bob Moore Nissan for your own 2023 Nissan LEAF.